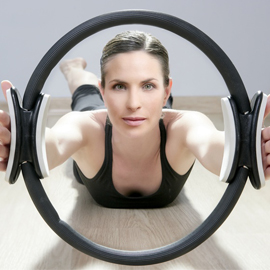 Pilates…
Pilates is a flowing movement exercise system, which strengthens major abdominal muscles through a sequential series of exercises. This is low impact, mat work, but with experience will increase cardio vascular output. Classical Pilates has been developed from the original system developed by Joseph Pilates during the First World War, integrating modern medical advances and scientific research.
Why Do Pilates?
Pilates strengthens the centre of your body so that it supports your torso and lower back rather than the muscles hanging from your skeleton
It helps you to stand up straight with correct posture and re-educates postural muscles to
do their intended job
It prevents and helps relieve back pain
Increases length and strength of muscles
Facilitates the body's smaller, weaker muscles to work as well as the more dominant ones
Aids flexibility
Improves sports performance due to the athlete being able to work from a stronger more stable base
Tones your body – lose inches – better silhouette
Loosens you up from a day stuck at your desk
FAQ's – Pilates Classes
What should I wear?
Reasonably tight clothing that allows you to move freely –
jogging bottoms/leggings and a fitted T-shirt are ideal.
Socks may be worn but shoes are not required.
What do I need to bring?
Yourselves and a suitable exercise mat.
Having your own mat is more hygienic as you are likely to get hot and sticky plus it also allows you to practice at home.
(Yoga mats are too thin to use for Pilates, I can advise you on mats and where to purchase them).
How do I join a class?
Entry into Pilates Classes is done via a beginners workshop or one-to-one in my therapy room, this allows me to assess your body's movement and gives you an insight of this flowing movement system, understand its principles and establish where your "Powerhouse" is and how to activate it. Beginners workshops are every two or three months.
How big are the Pilates Classes?
All group mat classes have a maximum of 12 students.
How do I progress?
All the Pilates classes are at different levels and you will be asked if you would like to move up to the next class when I feel you are ready.
Can I join a class if I am pregnant?
My classes are not suitable to participate in whilst you are pregnant.
Your baby needs room to grow and will not appreciate you starting deep abdominal strength training at this special time.
It is however important to think about your posture and try to stand and sit correctly using your deep abdominal muscles for support.